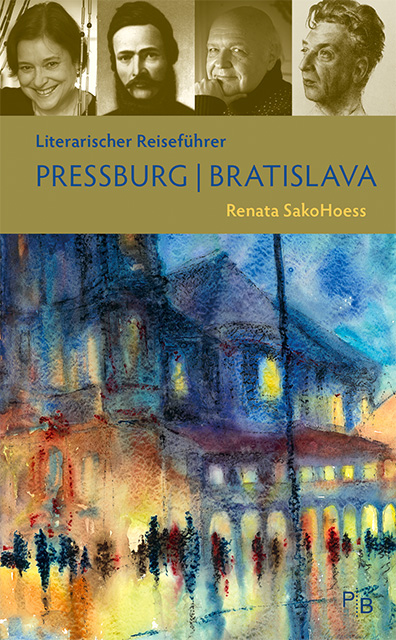 Pressburg - Hungarian Pozsony, Slovakian since 1919 Bratislava - is more than the little sister of nearby Vienna. For centuries it was Hungarian coronation city and was located on the important trade routes of Central Europe. Multilingualism was characteristic for the authors born and living here. Among these is the great baroque scholar Matthias Bel or the German-speaking writer and translator Alfred Marnau, whose works mirrors the eventful history of the 20th century.
The city on the Danube often appears as a place of remembrance, for example in the the texts by Elsa Grailich who wrote between the world wars or in the »Bratislava ghetto pictures« by Karl Benyovszky. A personality of the rich Jewish culture was Selma Steiner with her famous bookshop. It survived all historical breaks: from the Austro-Hungarian Empire, the First Czechoslovak Republic, the Slovak state and communism until the fall of the Berlin Wall.
With six literary walks the Literary Travel Guide accompanies through the historic complexity of the Slovak capital, which also fascinated contemporary writers such as Michal Hvorecký, Jana Beňová or the Hungarian writing Lajos Grendel.
Author Biography
Renata SakoHoess was born in a Slovak-German family in Bratislava. In 1968, she left Czechoslovakia together with her parents. She grew up with both languages and graduated in German and Slavic studies in Munich. She has taught Slovak language for a long time. The publishing house Dumont has reprinted her travel guide across Slovakia four times. In 2011, her Bratislava anthology has been published as part of the Europa Erlesen series, edit by Wieser Verlag. She reviews and reports for »Neue Zürcher Zeitung« and »Süddeutsche Zeitung«.
Literary Travel Guide Bratislava/Pressburg
Publication in German language with colored maps, photographs and elaborated appendix. Published by Deutsches Kulturforum östliches Europa, Potsdam 2017.
€ 14,80 | ISBN 978-3-936168-68-6